Anomalies In The Berlin Christmas Truck Attack: Another Israeli Mossad False Flag Scheme?
According to the latest reports, German police said that they may have arrested the wrong man over the Berlin terror attack, and the real culprit could still be at large and armed and dangerous.

In the world of Zionist-controlled media, quite contrarily to the statements of Police and the interior minister, some German, British and American newspapers wrote that the driver of the vehicle which barreled into a crowded Christmas market was from Afghanistan or Pakistan who had entered Germany as refugee earlier this year.

However, terror attack in Berlin cannot be seen in isolation. Like the previous terror assaults in Europe and the US, including some other countries, this new one in Berlin is also a false flag operation, arranged by some state actors and their intelligence agencies in order to achieve secret aims.

In this respect, some state actors like the US and particularly, Israel are still acting upon the secret strategies of the old political thinkers like Hobbes, Machiavelli, Morgenthau and Kissinger to achieve their selfish aims in wake of the modern world trends such as renunciation of war, peaceful settlement of disputes and economic development, while social media or internet has not only accelerated the peoples' interaction of various countries for the development of their mutual related-fields, but also exposed the hidden game of some state actors.

In this regard, there is a co-relationship of the double game, secret strategy and false flag operations which continue unabated.

Like the terror attacks in Paris, Brussels, Orlando, San Bernardino, Nice, Munich and latest one in Berlin is also a false flag operation and is part of the secret strategy of American CIA and especially Israeli Mossad which are in collaboration with each other in order to obtain the covert aims of their countries. Mossad might be alone involved in the terror assault of Berlin. Read the whole article here
Video: Berlin Truck Attack "Anus" Pledged Allegiance to ISIS…SAYS WHO?
https://www.youtube.com/watch?v=acsLZCcviDI
Berlin Truck Attack Suspect Is No More…..
https://www.youtube.com/watch?v=NvFRawYcSmQ
This Video Exposes Zionist Controlled CNN
https://www.youtube.com/watch?v=NUbqXHIXRx4
Watch CNN Push The Zionist Propaganda

PhotoShop Fakes, the Israeli Mossad, and the Berlin Truck Attack Hoax
It is the arch-Zionist, terminally corrupt Mossad that is behind the hoax lorry attack in Zionist-controlled Berlin, Germany. There is nothing true about it. This is merely staged, and no one can prove otherwise. This was an act committed by the Israelis in collaboration with their European, pro-Zionist associates, clearly an ISIS plot: that is a scheme and fraud committed by the Israeli Secret Intelligence Service. Gloating in their arrogance and lies, such Israeli criminal minds, cowards that they are, are attempting to incite the people, driving the mass consciousness to greater and greater murderous acts: including the incitement to international wars.
The godless Zionists do this as a routine. That is their motto, and there can be no doubt about this.
All the players in this fraud are hedonistic, terminally vile Zionist agents, in fact, primarily Israeli moles. Who could be more evident of a Mossad mole than the purported 'Polish' owner of the truck firm, none other than arch-Zionist Jew Ariel Zurawaski?
What is this lying, thieving Jew demonstrating? Is this the best he can offer? It is none other than a PhotoShop fake, a faux image of the reportedly (fake) dead truck driver, Lukasz Urban:
No one can doubt that the image is exceedingly bizarre; the image appears to be extensively manipulated, as is commonly done, digitally, in these hoaxes:
The eye has very little conformation. There does appear to be the use of the blur tool on his face. Note the supercilious smirk. Also, what in the world is he doing looking straight ahead instead of into the camera?
Here is an even more glaring example of the use of PhotoShop by arch-Zionist moles. Notice the blocking out of portions of the wallpaper design through the blur tool, also that bizarre patch of photographic alteration on the face.
That blob of photographic alteration drops down below the hard, bony chin line: absolutely bizarre.
There is a cut-line across the nose. The light is wrong on the face compared to the background. It shines on the background table but not on his hair or face. This is impossible. The fact is this is entirely fake, no other possibility.
The fake truck a ttack with the non-existent driver, and non-existent terrorist, supposedly resulted in what kind of dead? Incredibly, dead Zionists. Per the UK's Guardian:
Dalia Elyakim
An Israeli woman, Dalia Elyakim, has also been identified as being among the victims, according to Israel's foreign ministry. Elyakim was visiting Berlin with her husband, Rami, who was seriously wounded in the attack but is now stable.
NOTE: the witness or agent posting on their behalf on Facebook is none other than Israeli agent, Moshe Egoz.
Here are the lies spread by the Mossad about these two individuals:
Rami (the purported husband) was forced to undergo two surgeries to his hip and legs and while he remains in serious condition, he is no longer in life-threatening danger. He is expected to undergo another operation.
Dalia has not established contact with anyone since the attack who was standing by her husband's side when the truck slammed into the terrorist's victims. Authorities are continuing the search for Dalia.
NOTE: all these are mere story lines. They are lies. None of these individuals have suffered injuries of any kind. Let anyone else prove otherwise.
Clearly, then, these hedonisitc Israelis are playing out this plot, and, now, the named victims are Israeli Jews. This is an inane attempt to gain world sympathy for Zionist schemes.
Yet another arch-fake victim is the Morano Jew, Fabrizia Di Lorenzo. This Mossad mole prides herself on being a 'Master student of international relations and diplomatic affairs.' She is largely the 'pretty,' front-face of this hoax to give it additional traction: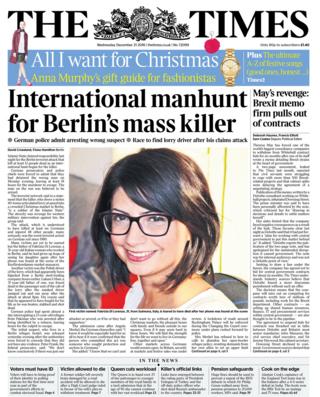 Arch-Zionist moles abound in this hoax. Nothing about it is real. This Zionist agent makes it abundantly clear by gleefully comparing it to the Nice arch-scam:
This false witness says that, by the way, "There was no reason to panic," among a number of other inane contrived responses to the staged interview. Of course, there was no reason to panic, because nothing happened, here:
Hoax index: not measurable, fake beyond belief. Islamophobia strikes, once again.
Sources:
Berlin Christmas Market Victims: Photos to Remember Their Lives